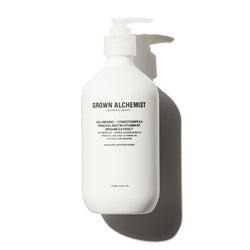 Volumising - Conditioner 0.4 Pracaxi, Biotin-Vitamin B7, Brahmi Extract
An innovative formulation that creates volume, boosting fine or flat hair, while detangling, adding shine and hydrating, for hair with more body.
BIOACTIVE INGREDIENT RESULTS
Biotin-vitamin B7 promotes hair health and growth, noticeably boosting hair shaft diameter to create volume. Pracaxi Oil, rich in Lignoceric Acid, hydrates and conditions, leaving hair smooth, shiny and luminous, while providing styling manageability. Flavonoids from Brahmi Extract support the protein matrix, increasing hair resilience and leaving it less susceptible to breakage, while promoting growth for more voluminous, lustrous-looking hair. Althea Extract provides detangling cationic proteins that assist in the separation of hair shafts, creating body and volume. Plant-derived Liposomes bond actives to the outer layers of the hair shaft and cuticle, and penetrate into the cortex, optimising the delivery of actives, ensuring healthier, voluminous hair.
DIRECTIONS FOR USE
Apply to wet, clean hair and massage lightly into hair, particularly on hair ends. For treated or dry hair, leave in for 1-2 minutes for maximum penetration into the hair shaft. Gently rinse hair and repeat when required.
INGREDIENT LIST
Aqua (Purified Water), Cetyl Alcohol (Plant), Helianthus Annuus (Sunflower) Seed Oil, Behentrimonium Methosulfate (Plant), Cetearyl Alcohol (Plant), Behentrimonium Chloride (Plant), Starch Hydroxypropyltrimonium Chloride [Plant], Hydrolyzed Vegetable Protein (Plant), Aloe Barbadensis Leaf (Aloe Vera) Extract, Urea, Sodium Lactate [Plant], Lactic Acid (Plant), Sodium Chloride, Glycerin (Plant), Levulinic Acid, p-Anisic Acid (Plant), Glycerin (Plant), Pentaclethara Macroloba (Pracaxi) Oil (Plant), Hydrolyzed Adansonia DIgitata (Baobab) Seed Protein, Althea Officinalis (Marshmallow) Extract (Plant), Bacopa Monnieri (Brahmi) Extract (Plant), Guar Hydroxypropyltrimonium Chloride (Plant), Aspartic (Amino) Acid (Plant), Biotin (Vitamin B7) (Plant), Benzyl Alcohol, Dehydroacetic Acid, Coriandrum Sativum (Coriander) Seed Oil, Piper Nigrum (Black Pepper) Seed Oil, Cananga Odorata (Ylang Ylang) Flower Oil, Geraniol (Plant), Linalool (Plant), Limonene (Plant).